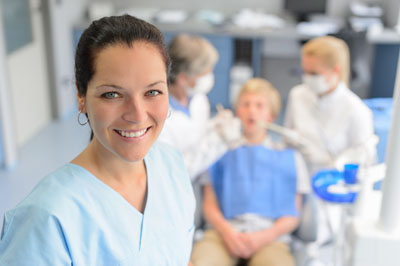 >Replace Missing Teeth With Dental Implants
If you lose many adult teeth or need us to remove multiple teeth and you cannot find a lasting solution, Teeth-in-a-Day may be the best option for you. Teeth-in-a-Day is an attachment denture treatment concept that offers you an excellent alternative to implants. Many people do not want to take the time to get several teeth implants, or they do not have the bone density to support individual implants.
For these people that would like a long-lasting solution, but want it quickly, Teeth-in-a-Day may be the right solution. The technology behind Teeth-in-a-Day is truly advanced and has revolutionized dental prosthetics.
Teeth-in-a-Day
Teeth-in-a-Day is a superior technology because it places the solution in a different part of the mouth than traditional implants. The front of the jaw has more density and, therefore, more staying power when it comes to keeping implants secure. The minimally invasive procedure places four longer implants in this dense frontal area of the jaw.
The small number of implants makes this procedure ideal for people who do not have a lot of free time or do not like spending extended periods of time at the dentist. The entire process takes a little over two hours and requires sedation. This permanent full dental bridge will act just like the original teeth did. Patients will notice a great improvement in the ability to chew and the patient's appearance.
What You Need to Know
Before this amazing technology, restoring teeth often required bone grafts and a metal post implanted where every missing tooth was. This procedure is effective, and so we still perform it on a regular basis. However, traditional implants are not for everyone. Our Teeth-in-a-Day method also provides permanent teeth. They will fit perfectly in the patient's jawline. The patient's gums and jaw will be able to retain their current attractive form rather than withering away without the support of teeth. We can limit pain and swelling after this procedure since it is less invasive than getting traditional implants.
Our titanium alloy implants are the highest quality, and they are compatible with your gums and tissue. They provide long-term support that will resist breakage and endure years of chewing. With Teeth-in-a-Day, you will have a full set of permanent teeth in one visit. We have extensive experience with this technology and can provide a thorough, smooth, and quality implant. If you need implants, Teeth-in-a-Day is an effective solution.
The benefits are endless. The treatment time is short, and it eliminates the need for annoying dentures. You will feel very little discomfort during healing, and healing is very quick. As a result, you do not have to be without teeth again. We assure you our technology is effective. Your teeth will look great, feel natural, and you will be able to enjoy eating all types of the food you love once again.
---
Related Posts
August 16, 2018
When you are looking to replace missing teeth, there are three main prosthetics that are often recommended by dentists: dentures, bridges and implants. These are tested-and-proven dental devices that can be used to restore a …
---