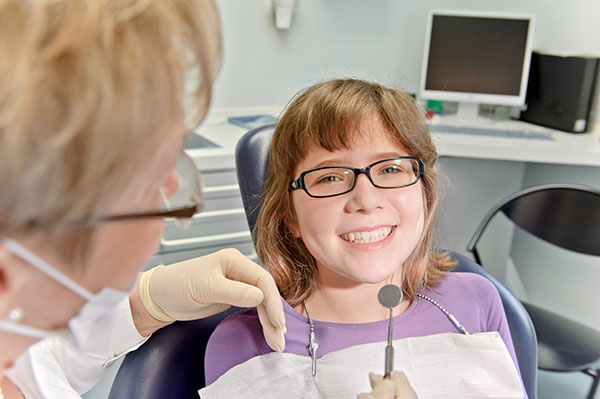 Getting ready to discuss fluoride treatment with your child's dentist? You should feel comfortable discussing any of your kid's dental needs with their dentist. When you and your kid's dentist have a great relationship, your kids are who benefits. One of the more popular topics parents want to know more about is fluoride. As a parent, it is your job to ensure that your kids are always experiencing good oral health. When they do, they are more likely to experience good oral health as adults.
About kid-friendly dentists
Finding a kid-friendly dentist for your kids is a great idea! While you could choose a family dentist to address your entire family's needs, choosing a kid-friendly dentist offers a number of benefits. They have undergone specific training on how to deal with kids, which means they know what to say and what to do in order to get kids into the dental office for treatment. Their dental office is full of toys, furniture and a team of kid-friendly staff.
According to the American Dental Association, fluoride is one of the safest ways we can prevent cavities for children.
Questions to ask a kid-friendly dentist about fluoride
The following is a list of questions that every parent can bring with them to their next kids dental appointment so they can learn more about the importance of fluoride treatments.
Why is fluoride important?
Fluoride is important because it helps make the teeth stronger, which makes them more resistant to tooth decay. Tooth decay leads to cavities, which jeopardizes the overall health of kids teeth. If a kid is given fluoride and they have one or more teeth that are showing signs of early decay, it is possible for the fluoride to reverse the signs, improving the health of their teeth.
Can my kids use a fluoride toothpaste?
Kids can start using a toothpaste that includes fluoride once they reach the age of three years old. They should only place a little bit of the toothpaste on their toothbrush, about the size of a pea.
Do my kids need fluoride treatments?
Fluoride helps protect kids from gum disease because it reduces the bacteria buildup that can cause tooth decay. It also helps to strengthen the enamel on their teeth, protecting the teeth from the decay that can jeopardize the overall health of their teeth.
Would your kids benefit from fluoride treatments?
Our kid-friendly dentist can provide your kids with the fluoride treatments they need to ensure that their teeth are healthy. It really is important for you to make sure that your kids' oral health is in good shape. When you do, they are more likely to experience good oral health as an adult and that is exactly what you want to happen. Since fluoride is an important part of tooth health, ensuring that your kids are getting their recommended amount of fluoride is necessary.
Are you considering a kid-friendly dentist in the Santa Clara area? Get more information at https://www.stardentalsmile.com.
Check out what others are saying about our services on Yelp: Read our Yelp reviews.
---
Related Posts
September 8, 2020
Do you need an emergency dentist? The best way to deal with a dental emergency is to prevent it from occurring in the first place. Although emergency dentists offer services when urgent dental care is …